Zimbabwe the Land of Poor Millionaires
Due to the country's hyperinflation rate of over 231,000,000% a year, the financial authorities were...

http://www.thedailytrends.net/2013/03/zimbabwe-land-of-poor-millionaires.html
Due to the country's hyperinflation rate of over 231,000,000% a year, the financial authorities were forced to release larger and larger bills in order to help people buy the simplest things without carrying bricks of bills with them. When the $10,000,000 bill was released in 2008, it was worth about $4 US, but it soon became as worthless as the previous bills and now you can find the 100 billion dollars bill which you can use to buy 3 eggs.
When people want to go to a restaurant they are again forced to carry mountains of money with them. This all began in the year 2000, when president Mugabe came to power and transformed the whole country into a giant agricultural field. Now the inflation is through the roof, 80% of the population is unemployed and a third of the population has left the country. At least they can take pride in the fact that they have the highest denomination bills in the world.
500 million note, just printed in May 2008. Everybody can have it. Maybe just nice for 1 breakfast/lunch (equal to about USD 2).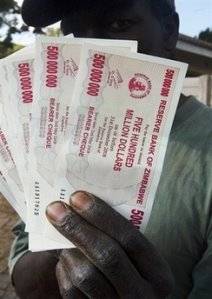 $10,000,000 bill was released early this year, it was worth about $4 US.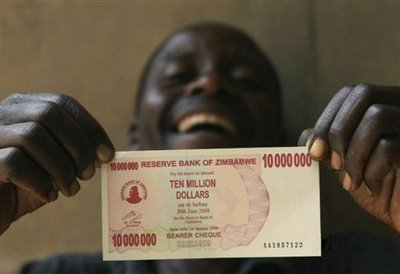 To buy food in plastic packet you have to spend at least 10 million.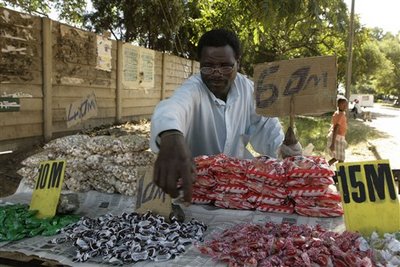 To buy vegetables you need 5 million.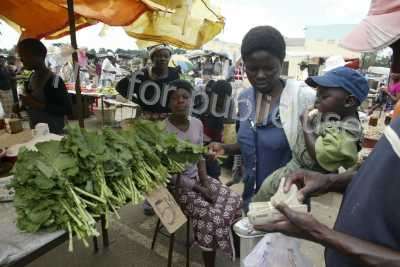 To buy eggs you need 6000 million.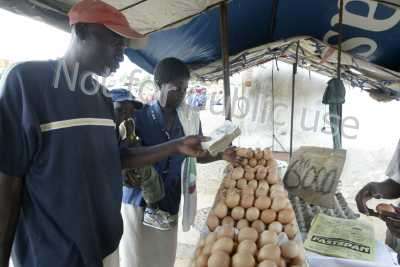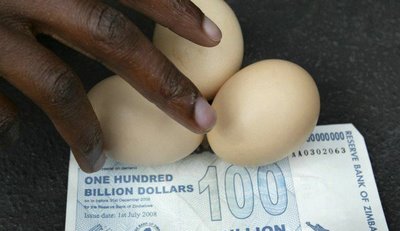 To buy chicken how many millions? Take a guess.
If you want to eat in restaurant, please prepare the money.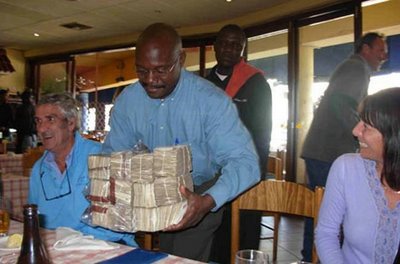 After eating preapare the money for drink.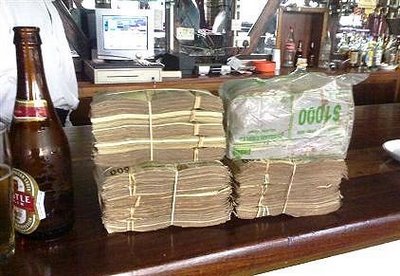 $10 Million Bill is worth $10 USD.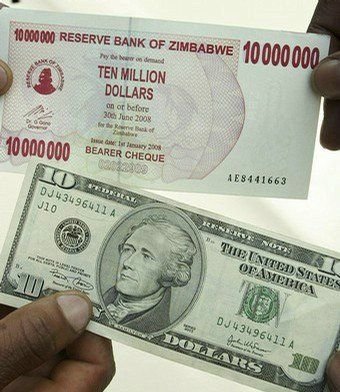 Abandonment of Zimbabwean dollar
The use of foreign currencies was legalised in January 2009, causing general consumer prices to stabilise again after years of hyperinflation and price speculation.The move led to a sharp drop in the usage of the Zimbabwean dollar, as hyperinflation rendered even the highest denominations worthless.
On 2 February 2009, the RBZ announced that a further 12 zeros were to be taken off the currency, with 1,000,000,000,000 (third) Zimbabwe dollars being exchanged for 1 new (fourth) dollar. New banknotes were introduced with a face value of Z$1, Z$5, Z$10, Z$20, Z$50, Z$100 and Z$500. The banknotes of the fourth dollar were to circulate alongside the third dollar, which remained legal tender until 30 June 2009.
The dollar was effectively abandoned as an official currency on 12 April 2009 when the Economic Planning Minister Elton Mangoma confirmed the suspension of the national currency for at least a year, but exchange rates with the Zimbabwean dollar were maintained for up to a year afterwards. The current government of Zimbabwe said that the Zimbabwean currency should only be reintroduced if the industrial output was 60% or more of its capacity, compared to the April 2009 average of 20%
Source: Odditycentral.com, Wikipedia